KoolMAX Ultimate Cooler, Bluetooth Audio System, and Power Station
Select color to see if it's in stock!
Pay at checkout with

Backed by a 1-year warranty. FREE shipping in the US.
---
BUILT-IN SPEAKERS - The KoolMAX features two built-in 6.5" Hi-Fi water-resistant speakers and two 2" high-performance tweeters to make every outing a party! Play music from any Bluetooth-enabled device, FM radio, SD card, or USB drive. The 4 speakers output a maximum of 350 watts of sound, so wherever you are, you'll be able to hear your favorite music loud and clear.
VERSATILE CONNECTING OPTIONS -

Want to jam out on your own guitar? Use the XLR and 0.25" instrument inputs to plug in any guitar or microphone.

Need to inflate that beach ball with an air pump? The KoolMAX has a 12V/5A DC power socket to run your air pumps and vacuums.
DESIGNED TO LAST - The built-in rechargeable battery lasts up to 16 hours of playing time per charge. Are your phones and tablets running low on battery? Recharge them with a fast recharging 5V/2A USB power port. Protect your phone from the elements while it recharges with a padded phone storage nook.
LARGE ADVANCED-INSULATION COOLER - The KoolMAX has a 40-quart capacity ice chest that holds 48 cans or 28 beer bottles. The advanced insulation technology will keep ice frozen for up to 3 days, good enough to last you all-weekend.
EASY TO TRANSPORT - Pack up all of your gear in one easy-to-move load. The cooler has extra large side handles, heavy-duty wheels, and a long telescoping handle for easy transportation. The side handles also feature convenient bottle openers, so you can refresh yourself with a drink after a long day outdoors.

Details
Downloads
Reviews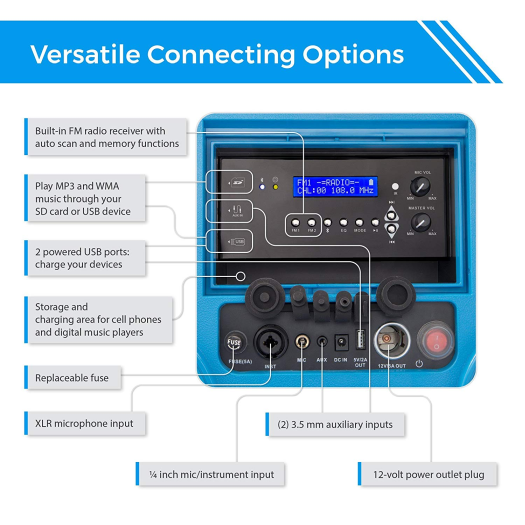 The KoolMAX has all the tools you need for music on the go. Choose from FM radio, Bluetooth, SD card, USB drive, and AUX music inputs. It even has XLR and 0.25 inch microphone and instrument inputs. The built-in digital amplifier lets you plug in a guitar, and jam out.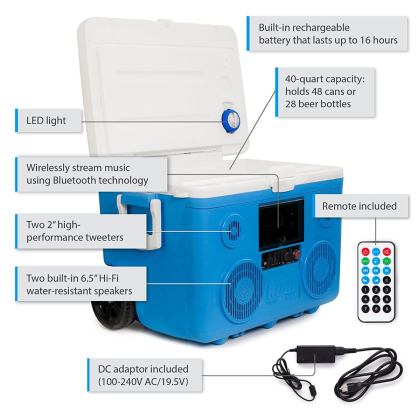 KoolMAX boasts an unmatched stereo sound system. Two 2" high-performance tweeters, and two 6.5" high-fidelity speakers deliver crisp, clean sound. The KoolMAX is water-resistant, so you can safely take it through the rain. Just don't drop it in the ocean!
The rechargeable battery delivers up to 16-hours of playback time, enough to keep the music going for extended trips. When it's time to recharge, use the included wall power (AC) and cigarette lighter (DC) adapters to recharge at home or from your vehicle.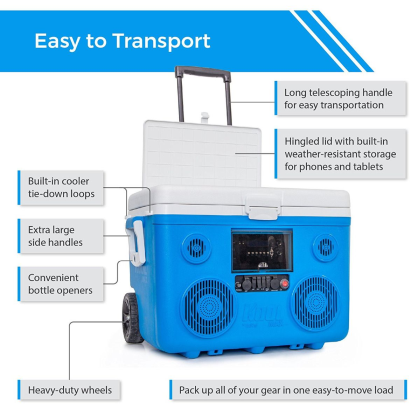 The KoolMAX was designed to make every aspect of a weekend trip easier. The long telescoping handle lets you easily roll the cooler on its heavy-duty wheels. When the terrain is too rocky, the large side handles make carrying the cooler a cinch. Treat yourself to a cold one with the bottle openers built-in to the handle.
When it's time to head out, store your valuables and electronics in the weather-resistant storage compartment. To secure your gear, use the built-in tie-down loops to run bungee or elastic cords across the cooler.